See your vision come to life
Rendering isn't just another step in the design process - it's the moment your vision comes to life. Lumion 2023 was designed to keep you in your creative flow, so you can visualize the future exactly how you imagine it.
Introducing ray tracing v0.9
Realistic light at the touch of a button
Add realistic light, shadows, and reflections to your renderings at the touch of a button.
​
The new ray tracing effect in Lumion lets you control the number of samples and bounces, giving you greater precision over the final result. With ray tracing switched on, your renderings will automatically show realistic indirect lighting, non-screen space reflections, contact shadows, and much more.
​
The scope of the new ray tracing effect will continue to be expanded and new additions will be easily made available thanks to the new software updater. To learn more about the latest updates to ray tracing, take a look at the release notes.
Full PBR material workflow
In Lumion 2023, the quality of existing PBR (physically-based rendering) materials is higher than ever. With the brand-new ray tracing effect enabled, the interaction between light and each surface results in ultra-realistic textures. You can also import your own textures or combine different maps to create the exact look you want.
Created the perfect material and don't want to lose it? Simply save it to your custom materials library to access it again and again.
​
Plus, you can organize your custom material collections however you choose to by saving them into folders.
New high-quality materials
Lumion 2023 comes with 165 new materials that you can use to add realism to your buildings' surfaces or landscape designs. These include wood, stone, marble, quartzite, tile, soapstone, veneer, brick, plaster, metal, concrete, asphalt, soil, grass, gravel, sand, and snow.
​
On top of these additions, Lumion 2023 now has an improved glass material that lets add a custom texture like relief or frostiness and adjust the distortion to your liking.
Lumion is available in Standard and Pro editions. Find the plan that fits your needs.
Enjoy a more intuitive rendering experience with Lumion 2023. Now available as a Subscription.
Check our system requirements to make the most out of Lumion 2023.
Help your clients imagine themselves in your design, with Lumion's extensive library of lifelike people. Set the scene and show the life in any project, by instantly adding your choice of realistic objects and furniture, whether it's a plant in the corner of a room, the cars passing by a building, or the wooden finish of a chair.
​
The new additions to the Lumion content library include: fine-detail nature, 3D static characters, cars, vehicles, and furniture items.
Incorporating lifelike characters into your renders is an effective way of showing how people might use, interact with, and navigate through the spaces you design.
​
With 150 new static characters added in Lumion 2023, you can easily contextualize your design.
​
This selection includes people of different ethnicities and in various positions, settings, seasons, and situations.
With their highly detailed textures, these nature items add instant visual interest and realism to your scene, while createing convincing environmental context.
​
With 166 new fine-detail nature items included in Lumion 2023, you can choose from a variety of trees, vines, shrubs, and small plants, that represent different locations and climates across the world.
A more streamlined workflow
New LiveSync panel
​
Save time setting up LiveSync with the new status panel. Quickly see if LiveSync is active, stop or resume the connection, and select or create a model to sync - all in one convenient location.
​
Lumion LiveSync is available for Sketchup, Revit, Archicad, Rhino, AutoCAD, Allplan, BricsCAD, Vectorworks, and FormIt.
Improved scene editor
​
Building your scene is one of the most creative parts of the rendering process. It's the moment you watch your design take shape and decide how it should look and feel.
​
With a redesigned interface, Lumion's scene editor prioritizes simplicity and ease of use. Arrange and rotate your assets with precision using the new gizmo and instantly align objects with the improved AutoSnap feature.
​
Lumion's scene editor now features AMD FidelityFX™ Super Resolution 2 (FSR 2) upscaling technology, for a sharper and smoother scene building experience.
Real skies make for more than just a visually pleasing, photorealistic backdrop to your designs. They can alter the natural light and shadows, impact the overall mood, and can even add geographical accuracy.
​
The new custom HDRI sky feature lets you fill your exterior scenes with an atmosphere of your choice by loading your own sky.
Improved color correction
​
Balance the colors in your scene with greater precision with the new histogram, now part of the color correction effect.
​
You can also use 12 new LUT presets, from golden hour to vintage wash, or load a custom one of your own. These act as color grading presets for image, movie, and panorama modes, enabling you to convey a distinctive mood in your designs.
Animated phasing effect
​
Animate the different parts of your design with the improved phasing effect.
​
This now allows you to scroll vertically through the different phasing tracks with a crisper, more intuitive interface.
Staying up to date is now simple and stress-free. Lumion 2023 includes a brand-new updater tool, which automatically detects any new available features and content and gives you the option to run updates in the background.
​
As we continue to improve our implementation of ray tracing technology, you can have a look at our development roadmap for more information on what's to come.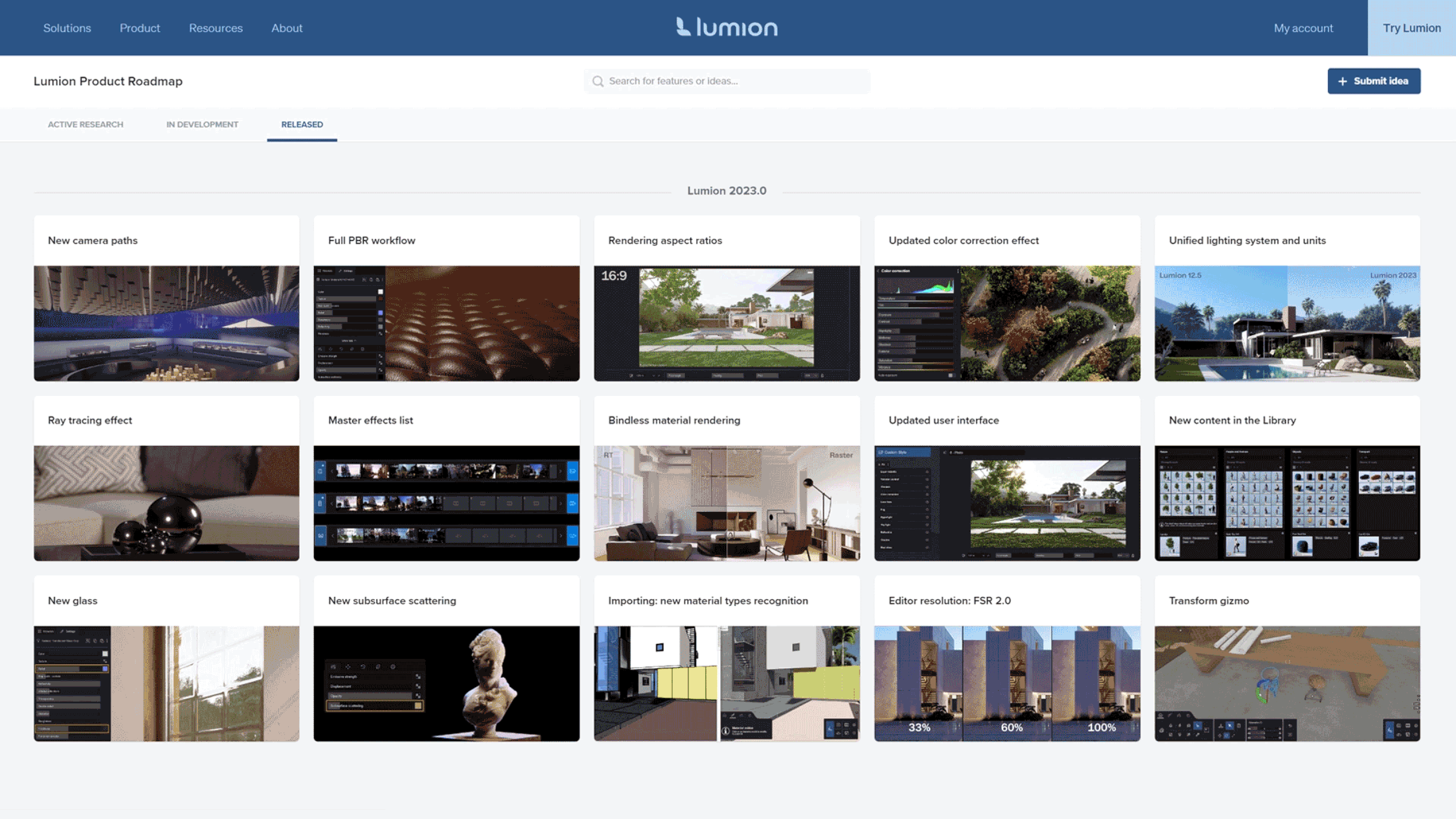 Enhanced rendering output
Aspect ratios
​
Control the composition for your visualizations by rendering directly in your preferred aspect ratio. Choose from a range of formats, including square and vertical aspect ratios, and save time cropping your photos and videos post-render.
​
Plus, you can now render multiple camera clips in one go.
New camera paths
​
Create animations faster and easier than ever with new camera paths that give you greater control and smoother camera movements:
​
Follow object - let the camera follow an animated object or character.

Dolly shot - move the camera in any straight line by setting the start and end points.

Orbit path - create a perfectly smooth camera path by simply setting the camera target, sphere radius, camera height, and start/end point.
Bring your structures to life with the greatest ease, in the highest quality
Visualize interior space as if they are ready to be or worked in
Create lifelike landscapes with details only found in nature itself
Lumion is free for students and faculties around the world